Yesterday was a very busy day and I didn't get a chance to post most of what I had planned on. I did, however, get a chance to go to a chat with
+Jonathan Henry
where we discussed Numenera with several people who stopped by. The chat was filled with people who had backed the Numenera RPG through Kickstarter, pre-ordered the book, or were hoping to get more information before deciding whether or not they wanted to buy the book.
Unfortunately, nothing ever goes according to plan. In the beginning, I was still waiting to get released from the hospital from my son's treatment, which meant I was gone for a chunk of the middle of the chat. I guess there was also some talking over one another with all the excitement about the game, and that's a problem that was just being discussed in regards to running games. I wanted to apologize to anyone who didn't get a chance to share their ideas as it can get a little hectic with timing delays, rampant excitement, etc. in a G+ Hangout. Unfortunately, I can't speak to any specifics as from what I understand, this happened while I was offline and in transit. If you had any thoughts to share or questions to ask, please do so. There's The Ninth World Hub and a growing community for Numenera Fans right here on G+.
As a note to
+Monte Cook
,
+Shanna Germain
, or other members of the team who might see this, there was some discussion about getting new players into the game, especially those players who might really be on the fence or might be awaiting for the proper celestial wallet between their hobby and their wallet. There was an idea of a sort of quick start guide, something that could be easily downloaded and perhaps even printed out by GMs to hand out to new players. The Numenera Player's Guide might be an example, but it's still 64 pages long, and something with a short and quick 2 or 4 pages would be great. Some of us want to be able to share this information openly, which explains the rules and gives some character basics—but, not all. And, of course, none of us want to accidently travel into murky legal waters.
The Numenera RPG had something like 17,000 copies ordered before it was ever completed. That is pretty amazing in the gaming industry. However, buzz about the product seems somewhat limited. There is a small wave traveling the internet which could quite possibly be a great tsunami.
Many people I have talked to who have read the book, followed the project, and so on truly believe that the Ninth World and the Numenera RPG can be the next great role playing game. It's already got the computer game underway. There is fiction out there to support it. There is branded merchandise. However, there isn't as much chatter online as some of us would hope for. I myself have talked to some gaming stores recently who haven't even heard of it, partly because they were burned on previous Kickstarter projects, partly because they simply hadn't heard of it.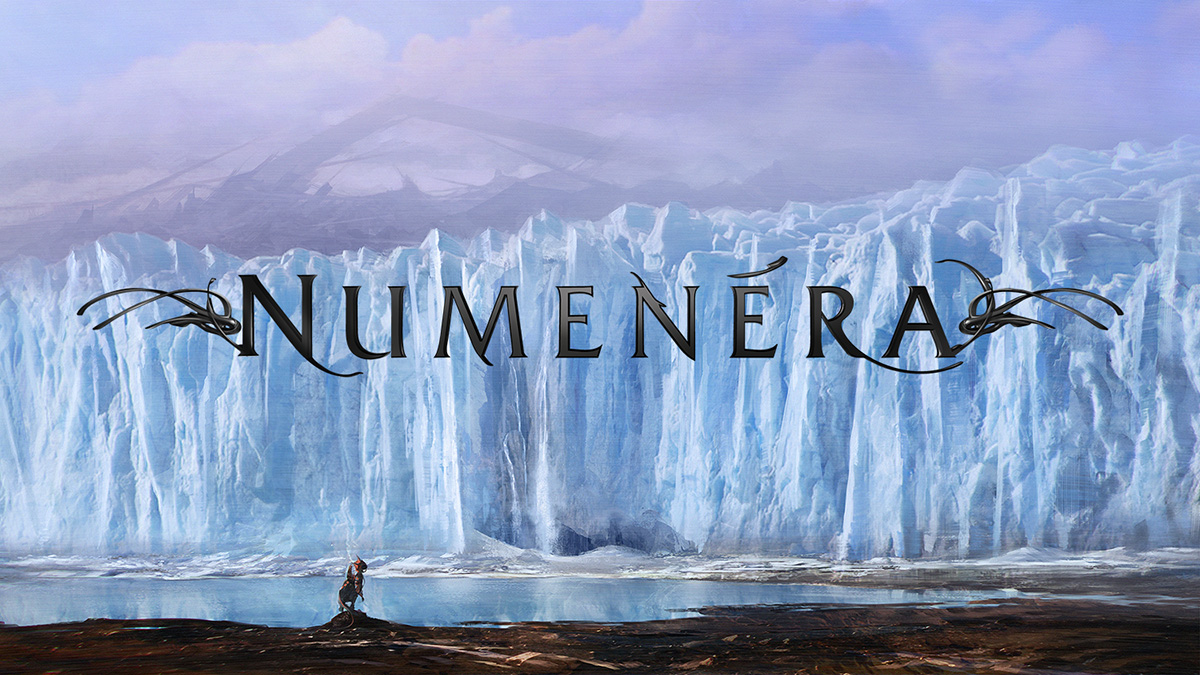 The point to this is that Numenera has a number of fans that want to see the game and the world grow—not just as more product and stories get added over time, but as more people go out and buy the books, enjoy the game, etc. Some of us understand that, as fans, we are partially responsible for spreading the word. On the other hand, there are some things Monte Cook Games can do to help with such endeavors.
Apparently, there was some discussion regarding GM intrusions and the economy of XP. We'll probably cover this more in detail, althought it seemed to be the one topic that actually got people to take sides. Other than that, people were very enthusiastic about the game and learning more.
As a result, we gathered together some links from around the Interwebs. These have some great information.
This PDF contains 4 of the 5 official stories that have been released for Numenera so far. The Amber Monolith is a free story that is printed both in the book and available for a quick read over at the Numenera website.
The players guide is up for sale with cards for the low low price of $9,999.99. Sadly it does not come in the glove box of a new Honda, but i am pretty sure that your local Honda dealer will include the book with the purchase of a new Civic, but you won't get the cards.
I suggest picking up the Players Guide for anybody who is interested in playing the game. It is essentially the condensed version of setting material and character creation rules from the main book. When it's available, the Player's Guide is set to retail at $7.99, I believe. That'll be about a week from today.
Started by one of the earliest Numenera fans, the Ninth World Hub has been a forum and a sounding board for the project for a few months now. Some of the earliest updates are here. And, team members from Monte Cook Games stop in. I just saw a sort of spur of the moment contest one put up yesterday for people who could locate some specific Easter eggs in the book.
I believe this was set up by the same team who put together the Ninth World Hub, although I could be wrong. These podcasts have been interesting, even though earlier episodes were somewhat hatered down due to the stringent NDA to protect Numenera before it hit the world. The last two episodes include diect interviews with Monte and team members and I hear are a "must listen." Hopefully, I get a chance to list to them today.
On Google Plus
Numenera App